On Sale
Double Sided Island Support Bracket
Counter supports for kitchen island countertop or breakfast bar, the Double Sided Island Support Bracket is a hidden countertop support bracket designed to give support to a countertop that has an overhang on both sides of the cabinet. The perfect concealed countertop overhang bracket. There is no hardware needed for this bracket; the bracket rests in the "pocket" you create to hold the bracket.
Dimensions:
Length..... [You choose]
Width..... 2-1/2 inches
Thickness..... 1/2 inch
How to determine the length bracket you need:
Space the brackets every 16-20 inches apart. Remember to stay back 2-4 inches from the outer edge on each side when determining the length. See the installation guide for tips before ordering. 
Features:
Virtually invisible giving your Kitchen Island the appearance of floating.
Non-intrusive. No corbels needed. No knee-knocking.
An economical way to protect your countertop investment.
Completely open space allowing room for chairs and legs.
Made of ½ inch thick by 2 ½ inches wide Solid American Metal for countertop overhangs.
Bracket end has a beveled edge for safety.
Brackets are paintable with anti-rust spray paint.
Limited Lifetime Warranty**
All of our Aluminum brackets are painted with a double coat of rust inhibitor black paint.

 
Helpful Information and Downloads:
Download Spec/Cut Sheet
When will my order ship once the order is placed? [Information can be found here on when your order will ship.]
How many brackets do I need? [We recommend spacing your brackets 16-20 inches apart.] The Double Sided Island Countertop Support Bracket Installation Guide can be further help. 
Most common FAQ.


Although we have standard sizes, we can manufacture special order brackets with specifications to your request.
Have questions? Give us a call 888-584-1112
Orders with brackets totaling over 20 brackets please read shipping info for lead time.

*See Full Shipping Info 
  
 **See Terms and Conditions
FREE GROUND SHIPPING TO THE LOWER 48 STATES AND CANADA!
Customer Reviews
Write a Review
Ask a Question
Filter Reviews:
brackets
sink
experience
island
quality
granite
service
cabinets
installers
Island Support Brace
09/03/2022
Anonymous

United States
Kitchen job
Very responsive to questions and knew how to address my concerns.
09/02/2022
Anonymous

United States
Granite bracket
Worked great! Just as described and great quality
05/25/2022
David P.

United States
ORIGINAL GRANITE BRACKETS
These ORIGINAL GRANITE BRACKETS are quality made products that are powder coated. The speed of their arrival was literally shocking in that they arrived just 36 hours after ordering. The customer service in answering my questions and preparing my order was far above what I anticipated. I would not hesitate to recommend this company and their products to anyone..
05/22/2022
Robert L.

United States
Brackets worked great !
These are high quality and easy to use. Worked fantastic for my outdoor kitchen countertop.
05/03/2022
Mark D.

United States
Substantial Supports
I used the double sided island support brackets to span the gap between two T brace brackets. Since I could find little to no information about how to mount the brackets where there was a sink or range, I decided to eliminate brackets in those areas and span the width by welding the island support between two T brace brackets. The modified brackets worked like a charm. My only complaint is that they were not packed "UPS proof." UPS almost destroys every package they deliver. The brackets were half torn out of their boxes and were scratched requiring repainting. Either pack them better or dump UPS.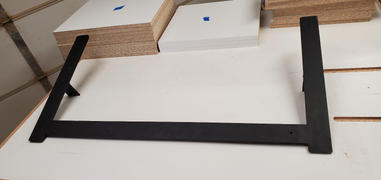 10/26/2021
Salvatore V.

United States
Perfect Brackets!
Great experience! Exactly what I was looking for! Brackets came in within a couple of day! Thank you!
09/09/2021
Kathryn R.

United States
08/22/2021
Laurie W.

United States
Simple and Easy Installation, Perfect
It was very easy. I'm a 62 yr old woman who, due to the rising costs of building materials brought on by this pandemic, has been trying to do as much interior work as I could. My builders had actually never seen this support before. After a day of me ******** and gluing additional supports to the inside of my cabinets (probably a little excessive but it really didn't take very long), I cut the notches for the 5 brackets. They went in beautifully. A neighbor helped me drill holes in the brackets to keep them in place (he had metal bits, I did not) and when my building crew came back on Monday, they were super impressed! Thanks for a very easy to use and easy to install product!
08/09/2021
Anonymous

United States
AWESOME!
great products, super turn around time, and fair prices
06/26/2021
Linda R.

United States
Fast Delivery, great service
I ended up not using the bracket and returned it. The person that measured the bathroom vanity said the granite would break at the narrow strip in front of the sink if I didn't support it. The right side is supported by a set of drawers and the left is supported by a vertical piece of granite. The center needed to be open for wheelchair access. I panicked and ordered this steel bracket but the installer didn't agree with measuring guy and didn't use it. Returned for refund.
03/20/2021
Craig C.

United States
03/12/2021
Anonymous

United States
Love it
Great doing business with The Originak Granite Bracket company. Order was processed quickly, accurately and very reasonably priced. I will be back for additional brackets.
07/03/2020
Al B.

United States
Great product
Brackets work great as always
04/28/2020
Anonymous

United States
happy island
no problem. I used vibrating tool to cut slots, I might suggest a template piece to mark size and depth. installers were impressed with brackets.
02/26/2020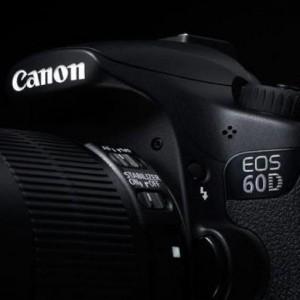 DA
David A.

United States
Island Project
The first time I used the original granite bracket it was the T-brace to support a peninsula overhang. This time we were planning our first island and she wanted a much larger overhang to give a bigger workspace. The hidden support bracket was recommended this time and I found them easier to install. With something as heavy as a stone countertop I feel you can't be too careful. These brackets give me peace of mind.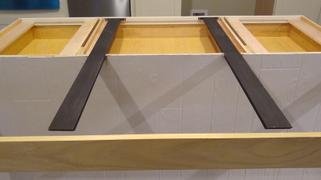 02/03/2020
Paul M.

United States
Double sided bracket
Brackets were well finished and FLAT. Very nice. Soft steel so I could easily drill and tap holes where I needed them. I used the brackets also to provide rigidity to the cabinet