On Sale
Hidden Island Industrial Support Bracket®
Large overhang countertop supports for all stone types including Granite, Quartz, Marble, and Concrete. Heavy countertop overhangs are the Hidden Island Industrial Support Bracket's® specialty.
This Hidden Island Industrial Support Bracket® is used when there is no knee wall or when you have an oversized overhang requiring the best on the market. This is THE perfect concealed support for countertop overhangs on a kitchen island or breakfast bar. Give yourself or your customer the peace of mind they deserve by having the strongest kitchen island support bracket on the market The Hidden Island Industrial Support Bracket®.
This bracket is designed to attach to the inside of the front wall of the cabinet and will extend through the cabinet. 
Dimensions of the Hidden Island Support Bracket:
Length... [you choose]
Width.... 2-1/2 inches
Thickness.... 1 inch
How to Determine What Size Bracket? 
The bracket will be mounted to the inside of the cabinet. Start by measuring your cabinet from the inside front wall (where the doors are) to the opposite side of the cabinet (for our example we are saying this measurement is 22 inches). Next, take your measurement you just did (22 inches) and add the inches of the overhang of the countertop (for example 15 inches), then minus 3 inches (to stay away from the outer edge of the countertop). This example would give you a total of 34 inches (22 +15 - 3= 34) - you would then need to order a 34 inch Hidden Island Support Bracket
Hidden Island Industrial Support Bracket® Features:
Virtually invisible giving your island the appearance of floating.
Non-intrusive. No corbels needed. No knee-knocking.
The flange is welded onto the support bracket.
An economical way to protect your countertop investment.
Instills confidence that your countertop is supported effectively.
Completely open space allowing room for chairs and legs.
Made of 1 inch thick by 2 ½ inches wide proprietary ribbed aluminum made here in the USA.
Bracket end has a beveled edge for safety.
Screw hole on each side of the flange.
The package is (1) bracket.
Limited Lifetime Warranty**
All of our Aluminum brackets are painted with a double coat of rust inhibitor black paint.

 
Free Ground Shipping To The Lower 48 and Canada!
Helpful Information and Downloads:
Download our Spec/Cut Sheet
When will my order ship once the order is placed? [Information can be found here on when your order will ship.]
How many brackets do I need? [We recommend spacing your brackets 16-20 inches apart.] The Installation Guide can be further help.
Most common FAQ
Although we have standard sizes, we can manufacture special order brackets with specifications to your request.
Have questions? Give us a call 888-584-1112
Orders with brackets totaling over 20 brackets please read shipping info for lead time.
*See Full Shipping Info
**See Terms and Conditions
 FREE GROUND SHIPPING TO THE LOWER 48 STATES AND CANADA!
Customer Reviews
Write a Review
Ask a Question
Filter Reviews:
brackets
company
overhang
island
service
kitchen
granite
support
quality
order
02/08/2023
Anonymous

United States
Awesome Product
These brackets are great. I would recommend them to anybody.
02/03/2023
Derk r.

United States
Owner of Dead man walking distillery
I called placed the ordered. They where at my office within a couple days. They where exactly what I was expecting and they worked great. Thanks again
01/17/2023
Anonymous

United States
Best granite supports you can get!
These brackets are well designed and work perfectly. I've used the on 3 projects and they've done the trick every time.
01/17/2023
Anonymous

United States
excellent quality
I always enjoy the ease of ordering, the on time deliveries and the amazing quality of the products.
12/23/2022
Joe L.

United States
Happy with the purchase
Everyone from the countertop company I used that came to the house to measure or install commented that we got "the good brackets." I am a welder and I saw the value of multiple boxed surfaces in the bracket vs the competitions single rectangular box design. Thank you for a quality product!
12/21/2022
Anonymous

United States
worked as advertised
Put them in the island so I could have overhang, easy to install. Worked as advertised.
10/20/2022
Anonymous

United States
Great product and Service
I ordered right after Hurricane Ian went through. I called to be sure the granite supports could reach me on my schedule (1 week). The gentleman who answered the phone was great. He assured me Tgey could fill my order promptly and meet my schedule. They delivered as promised. We love the supports and hoe Tgey work for our new kitchen.
10/14/2022
Angela R.

United States
Incredible Customer Service
Joe was a life saver!!! After ordering & paying in full for new countertops (removal and install), then waiting for 8 months the installers told us with less than a week it was our responsibility to prepare install brackets after they remove the counters and before they install. What in the world!! If I didn't find Joe at The Original Granite Bracket I wouldn't have a clue what to do! I sent him pictures and measurements and he custom made brackets and shipped them to me overnight!! What incredible customer service! I absolutely love the big island and the brackets are perfect. Thank you Joe for your quick response, for your guidance and taking this last minute stressful situation and turning it into a win! I highly recommend this product and most of all the company!
09/03/2022
Anonymous

United States
Recommendation from a Builder
We used these for a large countertop overhang. Great result, fair price, relatively quick delivery, easy company to deal with. Thank you for helping us deal with a dilemma quickly!
06/07/2022
Franchesca C.

United States
Just call them!
Working with Joe was a pleasure. We went back and forth a few times with drawings and determined exactly what I actually needed. He never over sold me and communicated promptly at every step. The brackets shipped within a week and are fantastic. Our granite installers were impressed with our forethought. Would recommend this place to anyone.
03/20/2022
Kristina

United States
Amazing brackets, better service!
My husband and I were doing a renovation of our kitchen, which included extending our island from 2 feet to 8 feet (quartz) - we got some info from our countertop guys and started looking inter where we could get tubular steel as well as where it could be welded. In our search, we were thinking there must be a better/easier way and my husband stumbled upon original granite brackets website and we are SO thankful he did! Since we do not have construction experience, I called and spoke with Tim asking if he could point me in the right direction for what we would need and man did he go above and beyond! Once he realized it was a fairly large project, he gave me his email address and we started exchanging multiple emails with pictures and measurements of what we currently have and what we were adding. He was so knowledgeable and told us exactly what we needed and when we had questions after receiving the product he was available to help and didn't make us feel dumb along the way. We are so grateful to have found original granite brackets and will recommend them and Tim to anyone!
02/18/2022
Anonymous

United States
Great brackets!
Very easy to install!
11/20/2021
Patricia C.

United States
11/15/2021
Thomas M.

United States
wonderful supports
We do custom Cambria (made in America) quartz countertops and was looking for a company who has products made in America so we can continue to support Americans. Shipping has always been speedy and product is always good looking. I highly recommend using these supports for your project! I don't see anywhere to upload a photo of how the job looks but am willing to send photos.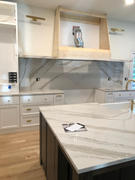 11/14/2021
Larry S.

United States
Island support brackets
good and easy to install.
11/11/2021
Greg M.

United Kingdom
Supplied UK
Great from my first call to Joe. whilst there was an issue with ordering online ,one call to Joe and everything sorted. Always better to speak with someone !! fab service....