On Sale
*NEW* Industrial Free Hanging Shelf Bracket®
**PLEASE NOTE: This bracket is designed for countertops and shelves ranging from 18 inches to 26 inches, and the preferred bracket for ALL shower benches**
**The installation process for the Industrial Free Hanging Shelf Bracket® is the same as the Free Hanging Shelf Bracket, you will just be cutting a one(1) inch thick slot out of the drywall instead of a half(1/2) inch thick slot when installing drywall over the bracket.**
Floating shelves, floating bathroom vanity, floating mantel or hearth, floating desk, floating shower seat/bench, all are supported by the Industrial Free Hanging Shelf Bracket®. This bracket is the perfect concealed support bracket for supporting a floating bathroom vanity or floating shelf. Made from Industrial Ribbed Aluminum, this is perfect for both indoor and outdoor applications.
This bracket is made to mount directly to the 2x4 wood studs inside your wall before the sheetrock goes up (If studs are metal, watch the video below before installing the Industrial Free Hanging Shelf Bracket) the Industrial Free Hanging Shelf Bracket® must be mounted into wood studs to support the weight of the shelf, etc. We recommend hitting each of your 2x4 studs for maximum protection.
How to install the Industrial Free Hanging Shelf Bracket® to Metal Studs:
**PLEASE NOTE: This bracket is designed for overhangs ranging from 18 inches to 26 inches**
**The installation process for the Industrial Free Hanging Shelf Bracket® is the same as the Free Hanging Shelf Bracket, you will just be cutting a one(1) inch thick slot out of the drywall instead of half(1/2) thick slot when installing drywall over the bracket.**
By mounting above, as well as below the horizontal piece, this prevents any type of twisting of the horizontal piece. After the bracket is mounted cover the wall with the finished board of your choice. 
How to Determine the Size Bracket You Will Need:
When measuring for length remember the horizontal piece is measured tip to tip. Remember to also include the part of the brace that will be inside of the wall [usually about 3 inches]. For example, if you have a 24 inch vanity, you would order a 24 inch bracket since 3 inches will be inside the wall, leaving you with 21 inches sticking out of the wall and a 3 inch overhang to place your vanity on.
See our installation guide for the Industrial Free Hanging Shelf Bracket® for more info before you order.
Dimensions:
Length.... [choose in listing] This is the total length of the horizontal piece of the bracket from tip to tip. [Remember that approximately 3 inches will be inside the wall]
Width.... 2-1/2 inches
Thickness.... 1 inch
Dimensions of the Vertical Tang:
Vertical Length.... 11 inches [5.25 inches above horizontal piece and 5.25 inches below horizontal piece]
Width.... 2-1/2 inches
Thickness.... 1/4 inch
Hole Dimensions.... 1/4 inch [3 holes above horizontal piece and 3 holes below horizontal piece]
Industrial Free Hanging Shelf Bracket Features:
Made from Industrial Ribbed Aluminum Material.
Floating Shower Seat/Bench (We recommend using the Aluminum Bracket, Will Never Rust).
Virtually invisible, gives your shelf, countertop, desk, bathroom vanity or fireplace mantel the appearance of floating.
Aluminum Bracket is perfect for exterior applications.
The perfect countertop overhang bracket.
Screw holes are on top and bottom of the vertical piece.
Welded for solid strength.
Made of 1-inch-thick by 2 1/2-inch-wide American Ribbed Industrial Aluminum.
Painted with a matte black finish.
The bracket may be painted with anti-rust spray paint.
The package is (1) bracket.
Limited Lifetime Warranty**
All of our Industrial Aluminum brackets are painted with a double coat of rust inhibitor black paint.

 
Helpful Information and Downloads:
When will my order ship once the order is placed? [Information can be found here on when your order will ship.]
How many brackets do I need? [We recommend spacing your brackets 16-20 inches apart.] The

 

Installation Guide

 

can be further help.
Although we have standard sizes, we can manufacture special order brackets with specifications to your request.
Have questions? Give us a call 888-584-1112
*Orders with brackets totaling over 20 brackets please read shipping info for lead time.
FREE GROUND SHIPPING TO THE LOWER 48 STATES AND CANADA!
Customer Reviews
Write a Review
Ask a Question
Filter Reviews:
brackets
questions
shipping
wall
experience
order
Canada
contractor
ground
kind
12/14/2022
Donna P.

United States
Wow - these are solid!
I bought brackets for a long floating vanity and a floating bench in my Master Bath. They both worked perfect and the company told me exactly what to purchase and delivered them within a couple days. So glad I found them. Thank you.
11/16/2022
jeff c.

Canada
Great service
The company service and brackets are great. I hadn't chose a size on one of the orders ( I purchased 8 brackets and two different styles) and received a phone call within 5 minutes to correct the problem. They came when they said they would. Brokerage and cross border shipping was all handled seamlessly by them. I ordered a few of the brackets incorrectly but that was on our end. I'm confident the return process will be as seamless as the purchasing process. I'll certainly use them again. Jeff Crews
10/30/2022
Alan P.

United States
As described
Worked as described
10/25/2022
Vincent N.

United States
Great Product, made in USA.
Many types of brackets to choose from depending on your condition. Made in USA and now have aluminum brackets which are lighter. Have used this product for home and commercial use. Great service. Highly recommend. Buy Made in USA!
08/15/2022
Anonymous

United States
as advertised
Great brackets--extremely sturdy. I called with a couple of questions, and they were answered promptly and expertly. Delivery was fast. An excellent experience all around. Would highly recommend. (Built a 94" long floating countertop for an alcove opposite my washer and dryer.)
06/09/2022
Eric R.

United States
Repeat Customer
We started purchasing brackets from The Original Granite Bracket company years ago when we discovered this high quality alternative to custom brackets made locally by our welder. They've proven to be worth the price for a quality, powder coated bracket. The best part of working with this company is that they offer many different designs to choose from and their customer service can help find the one that will work for your application. I'm sure we'll be back when we have another floating shelf, countertop or bench requested by a customer. Eric Custom Home Builder, Steamboat Springs, Colorado
04/24/2022
Anonymous

United States
Returned my Schluter Shower Bench
I had purchased a clunky prefabricated shower bench for my upcoming shower renovation and my cousin who is a great designer told me about your industrial granite brackets she had used on projects in California. I am an engineer and a homeowner and your technical support was very responsive and answered all my questions. Brackets are solid as a rock and I reinforced the wall to take away any stud twisting. Will send a picture when I get the Quartz bench installed on them. Also excited about your other products including the kitchen island brackets to avoid using the cornices. Will also use your dishwasher bracket for a little piece of mind.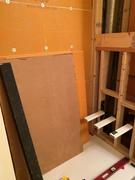 03/15/2022
Anonymous

United States
Free Hanging Shelf Bracket
First of all, I was happy to find that such product exists. The product looks strong and easy to install, looking forward to enjoying my floating bathroom bench.
02/24/2022
steve m.

United States
Great product ,easy to install,
02/18/2022
Lucas B.

United States
Excellent brackets
We've been using your brackets for years, keep up the good work!
02/01/2022
Ryan A.

Canada
Amazing Product
Called the office and spoke to someone regarding the brackets. Very friendly and answered all my questions. Placed the order, and product came from USA to Canada in 2 days. Amazing. ( I did pay for express shipping )
01/13/2022
Anonymous

United States
Great alternative for securing a counter top
Good experience…easy to install
12/22/2021
Anonymous

Canada
Brackets for floating vanity shelf
Excellent. Between my contractor and my carpenter they could not come to an agreement on how to hang an oak vanity shelf in a powder room. I spent a little while looking for a solution online and called your business. A friendly and knowledgeable rep answered my call and two days later the brackets were at my door- and I live in Canada. Brackets work exactly as needed. The shelf is solidly affixed to wall and it looks great.
12/06/2021
Victor C.

United States
Making life easier
Great product, great prices and fast shipping. These supports make life easier!
11/10/2021
David N.

United States
The perfect solution for a particular problem
I have tried a variety of structural products, mostly site-made, on which to hang floating vanities and The Granite Bracket made this head scratcher easy to do. The wide variety of lengths made my unique situation easy. I have already recommended this product to our multi-family division.
11/05/2021
Anonymous

United States
granite brackets used for shower seat and cabinets
We love your brackets for kitchen islands, supporting shower seats and for free floating cabinets. Thanks