A recent article done by May Wong at Stanford News reported,
An incredible 42 percent of the U.S. labor force is now working from home full-time. About another 33 percent are not working – a testament to the savage impact of the lockdown recession. And the remaining 26 percent – mostly essential service workers – are working on their business premises. So, by sheer numbers, the U.S. is a working-from-home economy. Almost twice as many employees are working from home as at work (Wong).
For most of us, this isn't a shocking paragraph. We know what 2020 has done to our work life. But will this "working-from-home economy" (wong) ever end? We don't have the answers, but we do know for a lot of people, the home office has become more used than ever. So, we are going to put together a few design tips to help make your home office as versatile for your home and work life as possible!
Desk Space
For a lot of families, it's not just you working from home. It's your kids, your partner, even the dog! The room is getting crowded, so how can we help with this? Let's expand the countertop space! We have said it in a lot of our kitchen blog posts, but it's important for the home office too. If you're working on a project with a computer, but also have papers, and now your kids are homeschooling and working on a project, you need the space! So, expand your countertop, giving your whole family the space, they need.
And just like in the kitchen, you don't want corbels underneath the countertop hitting your knees or legs while you're trying to work. Using this double sided island support bracket will give you leg room on both sides, so you and your kids can work on the same counter space together.
Photo by our partner: Amazing Closets and More
Organization
Life is stressful enough working from home, but now you must keep track of all your work and your kids work! Adding organization systems to your home office is going to make your life so much better.
Throw the papers away!
Listen, I get it. There is a piece of paper that you made a few notes on and you may need it again in a few months, I have been there. But this is how stacks form, then 5 stacks later, you have lost that piece of paper. So, purge the paper, or create a filing system in your desk drawers. Use colored labels to help keep your papers organized and separated.
Storage containers!
These are so pleasing to look at, but they also keep you organized. If you are working from home and have a stapler, pens, paper clips, tacks, your kids have crayons, markers, scissors; throwing all of this into one drawer is going to give you PTSD every time you open a drawer. A good recommendation for this is the drawer organizer from Amazon; a great price, and does the job!
Utilize your wall space!
Whiteboards, corkboards, shelving, hanging files, you can never go wrong with utilizing wall space. This will keep as much off your desk as possible, giving you more space to work and not have a cluttered mess around you. Another great recommendation if you are looking to install shelving on the wall is to use the free floating shelf bracket to support the shelf. This will give the shelf a floating look and just add to the overall feel of the organized office!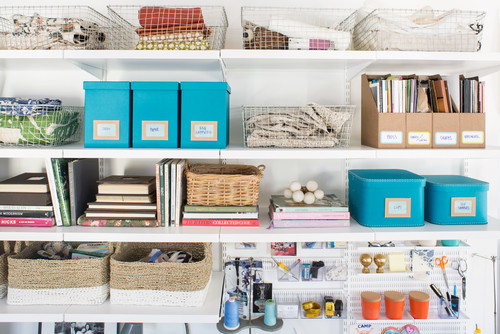 Decorate
You need to love where you work, so decorate! Fill the office with pictures of your family and friends, or pieces of art that make you happy. Don't be afraid to experiment with color and decor, because you aren't in a building office, you're in your home office, do what makes you happy!
Photo from our customer - using free floating shelf brackets to float her shelves
Credit:
Paragraph: Wong, May. "A Snapshot of a New Working-from-Home Economy." Stanford News, 26 June 2020, news.stanford.edu/2020/06/29/snapshot-new-working-home-economy/.
Featured photo: Amazing Closets & More
---
← Older post Newer post →