You either love laundry, or you love dishes. I have never in my life met someone who loves both. Me? I am a dishes type of person. Give me dirty dishes all day over having to start the laundry. But have you ever thought, maybe I don't like laundry because I don't have an awesome laundry room? Well today, we are partnering with 
Amazing Closets & More
 to talk about how to make your laundry room THE place to be in your house.
First, you're going to need a laundry room. Big or small, you can make any space work, but let's pretend you have a medium size laundry room. Let's set the scene: you have a washer and dryer, a wire rack above that stores all your tide pods and dryer sheets, and maybe you have a small desk, sink, or countertop next to the washer and dryer. This is where you dread folding clothes. Example below:
Now, let's customize this space! 
Countertops
First off, stop folding your laundry on your dryer or taking it to your bedroom and folding it there. I think folding and putting clothes away is the hardest part of doing laundry. But imagine, if you had a beautiful countertop to fold your clothing on! If you have front-loading appliances, adding a countertop above them will create the illusion of a larger space and it allows you to have a smooth, flat surface to fold away! Let's take down the wire racks (we will replace them later) and add a countertop instead.
To support the countertop above the appliances, we suggest the Wall Cleat Countertop Support Bracket (displayed on the sides in the picture below) and a Contractor Grade Large Shelf Bracket (displayed underneath the shelf holding it up in the picture below). This gives you the additional support you need to keep your countertop safe.
Shelves and Cabinets
Now, let's hear from Amazing Closets & More about their suggestions on shelving and storage solutions for a laundry room:
There are so many things you can do to make your laundry room more organized and more appealing, and in turn make this unenjoyable chore something you don't mind doing. Adding different organization systems is a great way to keep your cleaning items hidden, giving a clean overall effect. So, we recommend dropping the wire shelving and adding a storage system like the one pictured below to store items. Store your laundry basket behind a door in your system to keep dirty clothes out of sight. And my biggest recommendation is to keep it organized. Putting these types of storage and organization systems into place will help hide the cluttered look, which will overall elevate the room!
Make it You
Thank you Jess from Amazing Closets & More! Now lastly, make this room fun! Don't forget to have fun with designs and colors. Bring out your personality with bold patterns and bright colors. Add an accent wall, a fun rug, wallpaper, etc. There's so much you can do to maximize this space and adding color is just going to brighten this room and make it yours.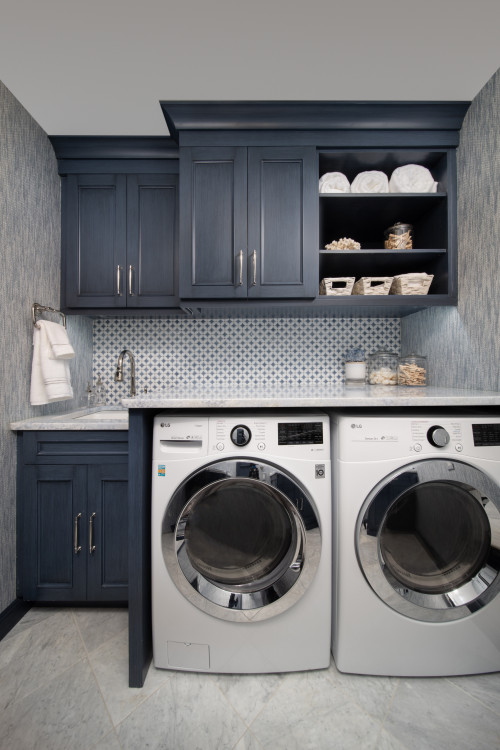 Make It Over!!
Yes, laundry is a chore, but you can stop hating your life (or running the dryer 7 times before actually pulling your clothes out) just by customizing your laundry room. If you have been thinking about it, this is your sign! Add countertops, add storage and organization solutions, add color and fun designs, and start to love doing your laundry!