For the recently released 2019 Houzz U.S. Bathroom Trends Study, Houzz polled 1,360 U.S. homeowners with 56 questions about their recent or planned master bedroom renovation projects. Here's a look at the defining trends amongst the renovating homeowners surveyed.
Top Reasons to Remodel the Master Bath
The top reasons homeowners remodel the master bathroom are outdated styles, small showers, and poor storage. Interestingly, only 8 percent make the bathroom significantly larger, as the remodeling focus is more on changing features within the space, rather than size. 
Relaxation in the Bathroom is a Big Deal
Half of the renovating homeowners reported that they use their remodeled bathrooms to relax and unwind. Creating a relaxing sanctuary is a big renovation goal. Renovators are using neutral hues to further the spa-like atmosphere: white or wood vanities, white counters, gray or white flooring and walls. Cleanliness and lack of clutter are key to having a relaxing sanctuary, and one in ten opt for greenery and sound features. 
Bathroom Styles are Changing
Contemporary and traditional design styles are falling out of favor, with transitional and modern design styles gaining in popularity. 
Showers Reign Supreme

Four in five homeowners upgrade the shower during a master bathroom renovation, and over half of them increase the shower size. Small shower sizes are a big pet peeve, second only to having an outdated space.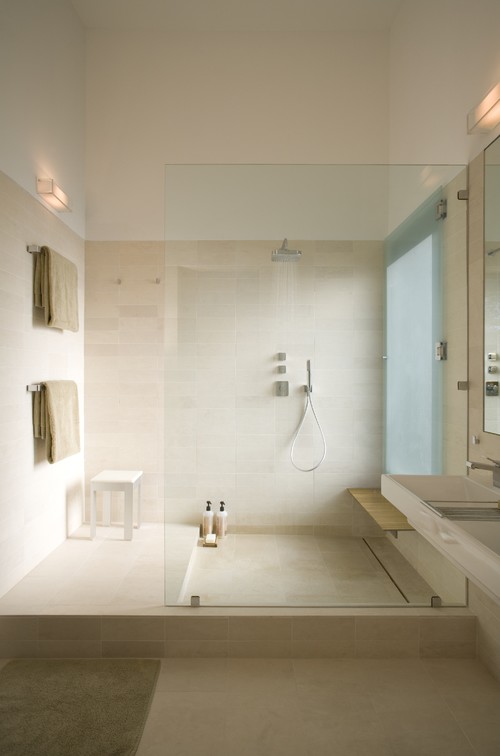 Custom Vanity Cabinets
The majority of renovating homeowners who upgrade their vanities choose custom or semi-custom vanity cabinets. This trend harkens to the desire for lack of clutter as homeowners look for ways to hide plugs, hair tools and so forth. One in ten renovators opt for a floating vanity (check out our vanity top brackets to safely and securely support your floating vanity).
Feature-Packed Medicine Cabinets

Two in five renovators who are upgrading their medicine cabinets opt for custom or semi-custom cabinets, with many boasting features such as mirrors and lighting on the inside and outside, hidden plugs, refrigeration, and anti-fog systems.
Accent Walls are on the Rise
A third of upgrades include a feature wall. Accent walls inside the shower are somewhat more common than those outside the shower, and pattern is the most common distinguishing feature, followed by different surface materials, colors and textures. In keeping with the popular spa-like aesthetic, more than a third of accent walls in the bathroom are in neutral palettes, but blue and multicolor are also common. 
Two Sinks are Better than One
An increasing number of renovators are choosing a double-sink setup. Undermount sinks continue to be the most popular, with drop-in and vessel sinks a distant second and third.
The Original Granite Bracket® is the only countertop support brackets manufacturer that has been in the kitchen and bath design and countertop fabrication business. Whether you're a remodeling professional or DIY-er, we're here for you to make sure you get the right brackets for your project. Connect with us today! 
Featured Image: